School Status
Loading Weather Info...
LFDEF, Inc. Contributors
Random Quote
" Be civil to all, sociable to many, familiar with few, friend to one, enemy to none. "
7th Grade Support Their School Garden
| | | | |
| --- | --- | --- | --- |
| The Raised Bed Garden at LFDCS... | | | |
is a resource that brings the entire school community together. On a recent hot and sunny, September afternoon, eight 7th graders volunteered to help out in the gardens. They harvested tomatoes, eggplant, peppers, beans and cucumbers. Students were surprised to find so many vegetables to harvest. By the end of the activity they had become experts in judging whether the produce was ripe enough for picking. All the produce was later delivered to the Lower School Cafeteria, where the kitchen staff will use the food in the school lunches. Since this is the second year that the garden is in full operation, the amount of produce continues to increase. Each year we get better at preparing the soil, watering, planting and defending our produce from the local animal populationJ
We are grateful for advice and support from Groundwork's Lawrence, Whole Kids Foundation, Johnny's Seeds and Harvard Pilgrim.
| | | | |
| --- | --- | --- | --- |
| Lawrence Family Development | | | |
celebrated its 2nd annual Family Food Fiesta on Friday, August 1, 2014. The Fiesta was a special event this year because Lawrence Family Development had two reasons to celebrate.
The first reason was the end of a successful summer school where charter school students enjoyed enrichment activities, academic and attendance interventions, explored high school transitions and improved English language skills. Over one-hundred and sixty students participated in engaging and educational activities this summer. To end the summer semester, the Family Food Fiesta was held outdoors on August 1st to allow Lawrence Family Development students and parents to enjoy the school's gardens and the attractive campus in the heart of the City of Lawrence, MA. As part of summer activities, students and teachers enjoyed and studied in the on-campus gardens. With the goal of school gardens that build awareness of food choices, the summer opportunities are funded from various private and state grants that allow Lawrence Family Development Charter School students to grow produce as part of the school's meal program. The Raised Bed Gardens are located at LFDCS's Lower School Campus at 34 West Street in Lawrence, Massachusetts.
The second reason for celebrating on August 1st by Lawrence Family Development was an announcement at the Family Food Fiesta by Massachusetts Representative Frank Moran, who along with the Merrimack Valley delegation, secured from the FY15 the Commonwealth of Massachusetts' budget an appropriation of $50,000 for Lawrence Family Development & Education Fund, Inc.'s Maria del Pilar Quintana Family Center. This award is specifically for the Quintana's citizenship and ESL services for adults. The award was announced to families by Representative Moran at the Family Food Fiesta. The award is another major achievement for newcomers to the City of Lawrence and will allow several hundred adult students to study English as a Second Language and participate in Citizenship Educations. Many students take advantage of a full year of study which consists of two 16-week semesters of classes offered at the Family Center's classrooms at 404 Haverhill Street. When parents of the Lawrence Family Development Charter School's students participate, the parents' educational progress directly impacts their children's school achievement.
At the Food Fiesta, State Representative Frank Moran spoke in English and Spanish to attendees at the Family Food Fiesta. He detailed the importance of community involvement and civic engagement. Representative Moran said: "Learning English will help in your careers and your personal life…..it will open doors previously unknown to you." A strong supporter of education services to immigrants, Representative Moran's presence at the Fiesta demonstrates his commitment to quality education for students of all ages.Accepting the $50,000 check at the ceremony was Lawrence Family Development and Education Fund, Inc.'s Executive Director, Ralph Carrero. He was assisted by Sandra Cepeda, Family Center Manager and Cindy Colón, Family Center Assistant. Mr. Carrero highlighted with pride the major accomplishment of the Quintana Family Center when, after months of work on a thorough application, Lawrence Family Development and Education Fund (LFDEF) was awarded approval of its citizenship education and services by the United States Board of Immigration Appeals (BIA).
| | | | |
| --- | --- | --- | --- |
| 2nd Installment of Cummings Award Supports "Opening Doors" Program | | | |
A four-year grant award totaling $100,000 through Cummings Foundation of Woburn, MA was given to Lawrence Family Development and Education Fund, Inc. in June of 2013 for the benefit of Lawrence Family Development Charter School. Based on the performance of the program in FY'14, the second year award of $25,000 has just been made. Specifically, funds will continue to be directed to Lawrence Family Development Charter School's "Opening Doors" efforts which support high school decision-making for the charter school's 7th and 8th grade students who particpate in after school and summer school academics to improve English Language Arts and Math achievement levels. Through this support, more than thirty LFDCS Upper School students particpate in summer enrichment, onsite private high school campus visits and year-round counsleing focused on assisting them and their parents with acceptance to private college prep high schools and financial aid resources.The Lawrence Family Development and Education Fund, Inc. is among 100 greater Boston-based organizations selected for $100,000 grants from Cummings Foundation. The Woburn-based foundation announced its continued funding to LFDCS for the second year, which delighted the students and families involved. The first non-profit 10 grant recipients were determined by the staff of the Foundation's for-profit affiliate, commercial real estate firm Cummings Properties. As part of the decision process, Cummings staff members were invited to nominate a locally-based charity and then they took part in an online vote to determine the grant recipients. The nomination process resulted in a grant for the Lawrence Family Development Charter School. The school's need for funding was first brought to the attention of Cummings Foundation by their employee, Beilis Soto, who is based for his work at its Cummings Center location in Beverly. Beilis' daughter, Lisibel, is a successful student at Lawrence Family Development Charter School and will attend the school's summer programs this July.
For the Charter School's June 2014 graduates, collectively these students earned over $1,300,000 in scholarships and financial aid to four-year high schools. Some examples of schools from which LFDCS' 2014 graduates received scholarships are: three graduates with scholarships to Central Catholic High School, one graduate with a scholarship to Phillips Academy Exeter, eleven graduates with scholarships to Notre Dame Cristo Rey High School, three graduates with scholarships awarded to Bradford Christian Academy, one graduate with a scholarship to St. John's Preparatory School, one graduate with a scholarship to White Mountain School, one graduate with a scholarship to Maine Central Institute, one graduate with a scholarship to The Cambridge School of Weston, one graduate with a scholarship to Presentation of Mary Academy and one graduate with a scholarship to the Berkshire School.
In addition to the scholarships and high schools mentioned above, Lawrence Family Development Charter School works closely with the ABC (A Better Chance) organization. This collaboration is based on the ABC mission of "opening the door to educational opportunities for thousands of young people of color in this nation." LFDCS students of the 2014 graduating class who were accepted into the A Better Chance Program are Eddy Suriel as an ABC scholar at the Berkshire School, Brichelle Peña as an ABC scholar at the Cambridge School of Weston, Ysanel Luciano as an ABC scholar at the White Mountain School and Jayleen Jaime as an ABC scholar at Phillips Exeter Academy.
Founded in 1995, the Lawrence Family Development and Education Fund, Inc.'s Lawrence Family Development Charter School (LFDCS) is one of the first K-8 Commonwealth public charter schools. As a "Level 1" public school for MCAS performance in 2012 and 2013, the work of the Lawrence Family Development Charter School is known for its best practices as a Massachusetts urban school. The school uses research-based practices for academic instruction and intervention, and supplements this instruction with after school and summer school programs.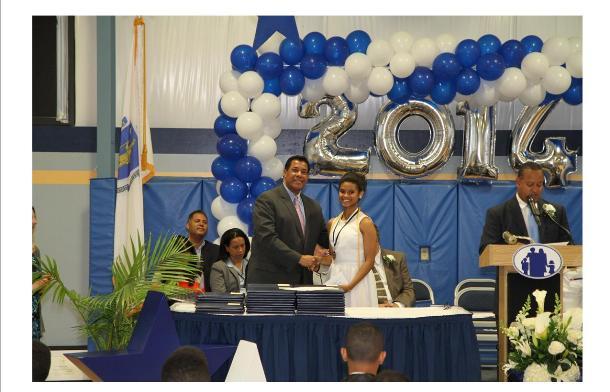 Ms. Lisbegnalis Gonzalez, a June 2014 graduate of the Lawrence Family Development Charter School, is congratulated by Massachusetts Reproesentative Marcos Devers. Ms. Gonzalez was one of the particpants in the "Opening Doors" Progam which receives funding from the Cummings Foundation and from the Liberty Mutual Foundation.  
Our program includes a dual-language model with students learning in both Spanish and English. The goal is to enable students to attain advanced levels of functional proficiency in two languages and to promote understanding of and appreciation for the cultures represented by the languages studied. The primary objective is to teach students language and literacy skills that will allow them to function effectively in both their personal and professional lives. We feel the development of literacy will foster a love of learning to read, and then the competency of reading to learn.

We believe there is a strong link between school success and effective and consistent leadership. As a result, our Board of Trustees, composed of parents and community leaders, provides valuable oversight and focuses on creating and upholding policies that support our students and their families. We also have initiated a new administrative structure with a principal and heads of upper and lower schools, who manage daily operations and discipline. Leadership from the ranks of the teaching staff is also highly evident, as teachers improve curriculum, serve as mentors to novice educators and work to attain National Board Certification.

Our goal is to work with many individuals and organizations in order to provide the resources necessary to enhance and enrich the lives of our students, both during the day and in our extended day and extended year programs. The quality and breadth of our community partnership program is unique. We work with an extensive array of local private schools, parent and community volunteers, and organizations providing on-site programs.

We believe that when parents are actively involved in their children's education, students have a better chance of succeeding academically. At LFDCS parents are required to be active participants in the education of their children. Parents serve on our Board of Trustees, participate in training programs designed to help them work with their children at home, volunteer in the classroom and on field trips, and assist with fundraising initiatives. All parents sign a contract that places high expectations on their participation both at school and at home.