School Status
Loading Weather Info...
Have a Smart and Safe Summer Vacation!
Spotlight On...
LFDEF, Inc. Contributors
Random Quote
" The ultimate measure of a man is not where he stands in moments of comfort and convenience, but where he stands at times of challenge and controversy. "
| | | | |
| --- | --- | --- | --- |
| 2nd Installment of Cummings Award Supports "Opening Doors" Program | | | |
A four-year grant award totaling $100,000 through Cummings Foundation of Woburn, MA was given to Lawrence Family Development and Education Fund, Inc. in June of 2013 for the benefit of Lawrence Family Development Charter School. Based on the performance of the program in FY'14, the second year award of $25,000 has just been made. Specifically, funds will continue to be directed to Lawrence Family Development Charter School's "Opening Doors" efforts which support high school decision-making for the charter school's 7th and 8th grade students who particpate in after school and summer school academics to improve English Language Arts and Math achievement levels. Through this support, more than thirty LFDCS Upper School students particpate in summer enrichment, onsite private high school campus visits and year-round counsleing focused on assisting them and their parents with acceptance to private college prep high schools and financial aid resources.The Lawrence Family Development and Education Fund, Inc. is among 100 greater Boston-based organizations selected for $100,000 grants from Cummings Foundation. The Woburn-based foundation announced its continued funding to LFDCS for the second year, which delighted the students and families involved. The first non-profit 10 grant recipients were determined by the staff of the Foundation's for-profit affiliate, commercial real estate firm Cummings Properties. As part of the decision process, Cummings staff members were invited to nominate a locally-based charity and then they took part in an online vote to determine the grant recipients. The nomination process resulted in a grant for the Lawrence Family Development Charter School. The school's need for funding was first brought to the attention of Cummings Foundation by their employee, Beilis Soto, who is based for his work at its Cummings Center location in Beverly. Beilis' daughter, Lisibel, is a successful student at Lawrence Family Development Charter School and will attend the school's summer programs this July.
For the Charter School's June 2014 graduates, collectively these students earned over $1,300,000 in scholarships and financial aid to four-year high schools. Some examples of schools from which LFDCS' 2014 graduates received scholarships are: three graduates with scholarships to Central Catholic High School, one graduate with a scholarship to Phillips Academy Exeter, eleven graduates with scholarships to Notre Dame Cristo Rey High School, three graduates with scholarships awarded to Bradford Christian Academy, one graduate with a scholarship to St. John's Preparatory School, one graduate with a scholarship to White Mountain School, one graduate with a scholarship to Maine Central Institute, one graduate with a scholarship to The Cambridge School of Weston, one graduate with a scholarship to Presentation of Mary Academy and one graduate with a scholarship to the Berkshire School.
In addition to the scholarships and high schools mentioned above, Lawrence Family Development Charter School works closely with the ABC (A Better Chance) organization. This collaboration is based on the ABC mission of "opening the door to educational opportunities for thousands of young people of color in this nation." LFDCS students of the 2014 graduating class who were accepted into the A Better Chance Program are Eddy Suriel as an ABC scholar at the Berkshire School, Brichelle Peña as an ABC scholar at the Cambridge School of Weston, Ysanel Luciano as an ABC scholar at the White Mountain School and Jayleen Jaime as an ABC scholar at Phillips Exeter Academy.
Founded in 1995, the Lawrence Family Development and Education Fund, Inc.'s Lawrence Family Development Charter School (LFDCS) is one of the first K-8 Commonwealth public charter schools. As a "Level 1" public school for MCAS performance in 2012 and 2013, the work of the Lawrence Family Development Charter School is known for its best practices as a Massachusetts urban school. The school uses research-based practices for academic instruction and intervention, and supplements this instruction with after school and summer school programs.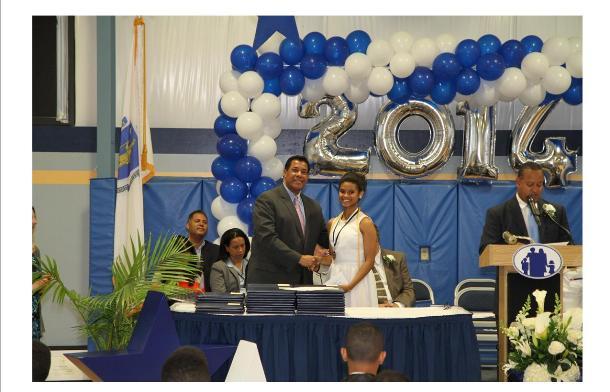 Ms. Lisbegnalis Gonzalez, a June 2014 graduate of the Lawrence Family Development Charter School, is congratulated by Massachusetts Reproesentative Marcos Devers. Ms. Gonzalez was one of the particpants in the "Opening Doors" Progam which receives funding from the Cummings Foundation and from the Liberty Mutual Foundation.  
| | | | |
| --- | --- | --- | --- |
| YouthBuild-Lawrence/LFDCS Partnership | | | |
Lawrence Family Development and Education Fund, Inc. is a nonprofit management organization which has three major components. These components are the Maria del Pilar Quintana Family Center, YouthBuild-Lawrence and the Lawrence Family Development Charter School. Lawrence Family Development and Education Fund, Inc. (LFDEF) has long been known for its external science and engineering partnerships with organizations including the University of Massachusetts Lowell (UMass Lowell), sneaker manufacturer – Converse, Quarrybrook Outdoor Learning Center, Northern Essex Community College, the Boston Society of Civil Engineers, Boston College, and the Metro North Regional Employment Board/Cambridge and Merrimack Valley Workforce Investment Board.
LFDEF receives grant support from the Massachusetts Department of Elementary and Secondary Education, and some of its STEM projects are supported by Mass. Department Higher Education through the STEM Pipeline Fund and the Regional Employment Boards. Lawrence Family Development and Education Fund, Inc. prioritizes internal partnership opportunities, especially to benefit its summer and after school programs. Recently, YouthBuild-Lawrence, which educates youth who have decided to re-engage in school, asked its young adult participants to work with Lawrence Family Development Charter School (LFDCS) students. LFDCS is a kindergarten through eighth grade Commonwealth Charter School. The YouthBuild-Lawrence students worked with participants in the charter school's science and engineering programs. The focus was on engineering and construction problem solving. These "hands-on" engineering activities are important in developing critical thinking and problem solving skills which are key to success in Massachusetts state testing, also known as MCAS. Creative science and engineering projects at Lawrence Family Development Charter School help the school to show, relative to other communities, strong performance on testing. Due to this strong performance, LFDCS is categorized as a "Level 1", top-performing school.
In the case of the recent school activities, 5th graders learned about materials, tools and fasteners which are significant to the mastery of technology and engineering Massachusetts curriculum standards. Leveraging LFDEF's capacity with construction as part of its YouthBuild program, young adults were partnered with the fifth graders for a lesson on tools and fasteners. For YouthBuild-Lawrence the activities were an opportunity for youth to perform some of their required community services hours, and for LFDCS it is hoped that the lesson will strengthen the students' test score performance as projects such as these have done in earlier years. Teachers at the charter school hope that performance on the 2014 MCAS testing at the charter school will be strong on open response and multiple choice science sections of the test. In the past, LFDCS students have scored an average of 15% higher than students in other Massachusetts communities.
Stephanie Cross, who leads STEM activities at the charter school, coordinated the project with charter school science teacher, Jay Kelly as well as YouthBuild-Lawrence staff members Greg Earls and Domingo Corona. Providing technical back-up was Russ Hodge. The YouthBuild students involved in this community service project were: Jessenia Aponte, Luis Hiraldo, Destiny Iorio, Joshua Machado and Joseph Gomez. For the activities and through the generosity of YouthBuild-Lawrence, all of the materials for the lesson were pre-cut by YouthBuilders for the 5th grade students to assembly. The construction of th project gave elementary-grade students the chance to see actual materials and work in three-dimensional construction. Additionally, YouthBuild-Lawrence students prepped wood for the assembly of a tool box given to all sixty charter school students.
Our program includes a dual-language model with students learning in both Spanish and English. The goal is to enable students to attain advanced levels of functional proficiency in two languages and to promote understanding of and appreciation for the cultures represented by the languages studied. The primary objective is to teach students language and literacy skills that will allow them to function effectively in both their personal and professional lives. We feel the development of literacy will foster a love of learning to read, and then the competency of reading to learn.

We believe there is a strong link between school success and effective and consistent leadership. As a result, our Board of Trustees, composed of parents and community leaders, provides valuable oversight and focuses on creating and upholding policies that support our students and their families. We also have initiated a new administrative structure with a principal and heads of upper and lower schools, who manage daily operations and discipline. Leadership from the ranks of the teaching staff is also highly evident, as teachers improve curriculum, serve as mentors to novice educators and work to attain National Board Certification.

Our goal is to work with many individuals and organizations in order to provide the resources necessary to enhance and enrich the lives of our students, both during the day and in our extended day and extended year programs. The quality and breadth of our community partnership program is unique. We work with an extensive array of local private schools, parent and community volunteers, and organizations providing on-site programs.

We believe that when parents are actively involved in their children's education, students have a better chance of succeeding academically. At LFDCS parents are required to be active participants in the education of their children. Parents serve on our Board of Trustees, participate in training programs designed to help them work with their children at home, volunteer in the classroom and on field trips, and assist with fundraising initiatives. All parents sign a contract that places high expectations on their participation both at school and at home.