School Status
Loading Weather Info...
Spotlight On...
STEM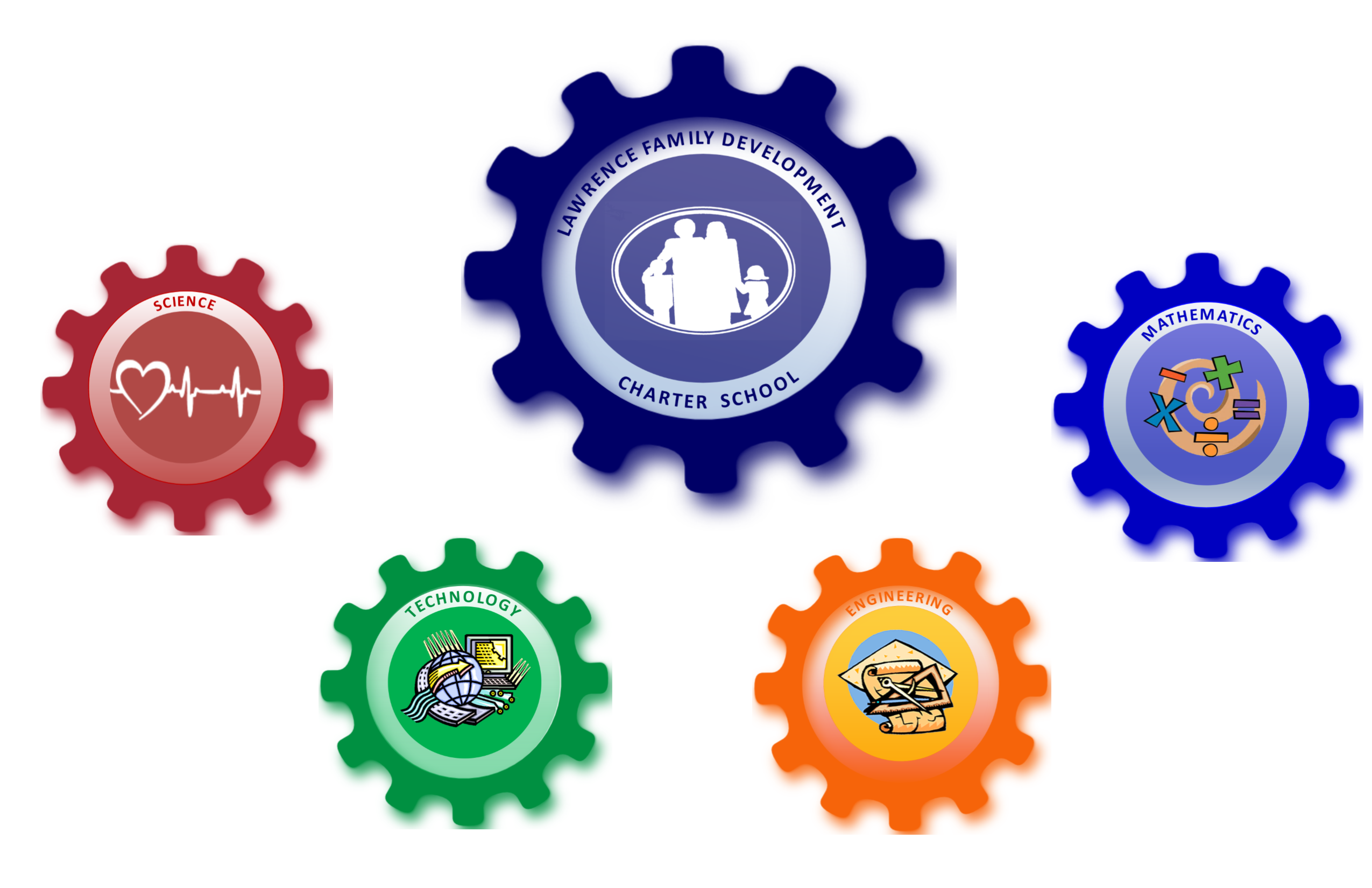 Random Quote
" The object of education is to prepare the young to educate themselves throughout their lives. "
K-1 Holds First ELL Math Night
| | | | |
| --- | --- | --- | --- |
| K-1 ELL Math Night - May 17, 2016 | | | |
Lawrence Family Development Charter School's Academy for Early Academic Preparation held its final ESL Family Math Night of the year on Tuesday, May 17, 2016. This math night was particularly special, because it was the first time K1 ELL students and families were invited.
The K1 ESL Family Math Night included sessions on matching quantities, adding, skip counting, patterns/shapes, and number identification. In these evening workshops, parents worked with teachers and their children to build language and math skills. Enrichment activities create a vocabulary-rich learning environment and reinforce academic skills and language development. Parents are provided special assistance and take home materials to reduce students' performance gaps. This program is aligned to both WIDA and Common Core standards and coordinated by ESL certified teachers and led by RtI/ ELL Coordinator, Hali Castleman and Head of School for the Academy for Early Academic Preparation, Erica Crescenzo.Prior to hosting these evenings for families, ESL teachers work in professional development sessions with regular education teachers to design activities on Sheltered English Immersion (SEI) techniques.
Lawrence Family Development Charter School received a grant for this program from the Massachusetts Department of Elementary and Secondary Education for $23,667 for use with English language learners (ELLs) who are in the school's K1, K2 and Grade 1 programs. These funds include resources for beyond- the-school-day programming which take place in the summer of 2016 as well as Family Math Nights which are held during winter and spring of the school year. This grant allows ELL students and parents to attend family math nights based on the students' grade level and learn math skills which can be reinforced at home.
Beyond-the-school-day programs,such as Family Math Nights, are a great way to build family engagement. Mr. Carrero said "The work of the Lawrence Family Development Charter School is rooted in family engagement which is why our school has been recognized as a high-performing charter school by the Department of Elementary and Secondary Education's Commissioner, Dr. Mitchell Chester. We are proud to be a dual language school and to use research-based practices for academic instruction and intervention. These special "beyond-the-school-day programs" support the charter school's Academy for Early Academic Preparation's development of English language skills for academic success and complement the school's regular education day time programs by focusing on the Academy's ELL students and parents on the development of math skills."
The Lawrence Family Development Charter School shares its gratefulness for successes with its funding agents. Funders from the Massachusetts Department of Elementary and Secondary Education's Title 3 team are briefed on the utilization of funds and the success of the Family Math Nights each year. Melanie Manares, the ESE Title III Coordinator, has expressed delight with the work at Lawrence Family Development and said, "It's great to see the grant in action and working to serve the needs of ELLs. Thanks also for your flexibility and thoughtfulness in planning a good program."
| | | | |
| --- | --- | --- | --- |
| LFDCS Honors Donors for K-1 Interactive Boards on April 5th | | | |
On April 5, Lawrence Family Development School celebrated the addition of interactive boards for its K-1 classrooms. K-1, the first year of kindergarten, is a full-time public school opportunity at Lawrence Family Development Charter School. Interactve boards allow teachers to expand the use of teaching with technology in the classroom and are especially useful with the development of academic language.
In 2006, Lawrence Family Development Charter School opened an early-kindergarten program, enrolling four-year-old students in a full-day, comprehensive program.  LFDCS enrolls a student population that is 99% Hispanic. Many of its students rank Spanish as their first language, necessitating a significant investment of personnel, resources and study in English Language Acquisition, particularly vocabulary development. Staff members provide vocabulary-rich instructional support enhanced by visuals to increase vocabulary, and comprehension. An important tool for instructional support is classroom interactive boards.
Now, through the generosity of donors, Lawrence Family Development Charter School recently added four new interactive boards at its Academy for Early Academic Readiness, 10 Railroad St., in Lawrence.  The new purchases are Epson Bright Link Wall Mount projectors for instructional support to K-1, four-year old students. The newly donated interactive boards provide visual cues which speeds the development of the school's dual language (English/Spanish) goal.  Interactive boards are also a key part of professional development for the thirteen Academy for Early Academic Readiness teachers. This professional development support is led by Dr. June Kim, who works with teacher-support for techniques with the interactive projectors.
At a recent celebration, the school expressed gratefulness to the donors of these new interactive boards. Funds for this equipment were provided by: Enterprise Bank, Cummings Properties, Mike Nahill (an investment advisor), and Morris Rossi and Hayes (the legal counsel for Lawrence Family Development). Superintendent Ralph Carrero was delighted by the support from these donors, each of whom is keenly aware of the impact of rigorous education on the economic development and community engagement in the City of Lawrence. Mr. Carrero said "The work of the Lawrence Family Development Charter School is rooted in family engagement which is why our school is recognized as a high-performing Charter School by the Department of Elementary and Secondary Education.  We are eager to use technology to accelerate the learning of our students, which in turn, impacts families."
Our program includes a dual-language model with students learning in both Spanish and English. The goal is to enable students to attain advanced levels of functional proficiency in two languages and to promote understanding of and appreciation for the cultures represented by the languages studied. The primary objective is to teach students language and literacy skills that will allow them to function effectively in both their personal and professional lives. We feel the development of literacy will foster a love of learning to read, and then the competency of reading to learn.

We believe there is a strong link between school success and effective and consistent leadership. As a result, our Board of Trustees, composed of parents and community leaders, provides valuable oversight and focuses on creating and upholding policies that support our students and their families. We also have initiated a new administrative structure with a principal and heads of upper and lower schools, who manage daily operations and discipline. Leadership from the ranks of the teaching staff is also highly evident, as teachers improve curriculum, serve as mentors to novice educators and work to attain National Board Certification.

Our goal is to work with many individuals and organizations in order to provide the resources necessary to enhance and enrich the lives of our students, both during the day and in our extended day and extended year programs. The quality and breadth of our community partnership program is unique. We work with an extensive array of local private schools, parent and community volunteers, and organizations providing on-site programs.

We believe that when parents are actively involved in their children's education, students have a better chance of succeeding academically. At LFDCS parents are required to be active participants in the education of their children. Parents serve on our Board of Trustees, participate in training programs designed to help them work with their children at home, volunteer in the classroom and on field trips, and assist with fundraising initiatives. All parents sign a contract that places high expectations on their participation both at school and at home.